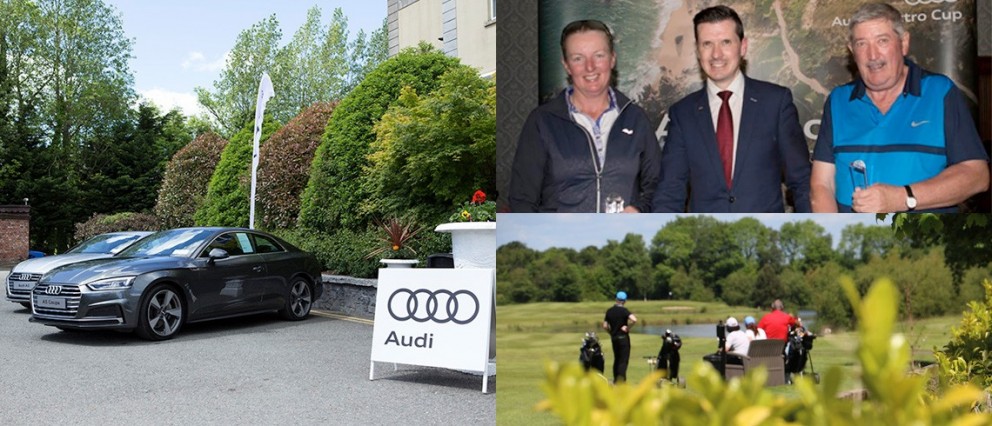 Audi quattro Cup
Published on 28th June, 2017 at 12:00 PM
MARIAN FINN and LIAM TROY were announced as the winners at the prestigious Audi Naas quattro Cup, held recently at Palmerstown Golf Club. The six highest ranking teams will progress to the national final of the amateur golf tournament, which will be held at Carton House, Co. Kildare on 13thSeptember.
The pair swung to victory with a final score of 42 points, finishing ahead of JIM KELLY and LUKE BIRD, DARRAN GOLDRICK and PADDY HEARNS, CAIMIN STAFFORD and ROBERT O BEIRNE, DES ADAMS and PAUL KEOGH, PETER CUNNINGHAM and NIALL KEARNS. A total of 100 golfers in 50 teams took part in the Audi Naas heat. Regional heats are currently taking place across some of Ireland's most prestigious golf courses to determine the national finalists, who will go on to represent Ireland at the World Final in Mexico from the 1st – 5th December.
Jackie Stafford, General Manager, Audi Naas commented: "As we celebrate the 27th year of the Audi quattro Cup, we at Audi Naas are delighted to be taking part in the largest amateur golf tournament in the world. The standard of talent and skill has been outstanding and is testament to the calibre of amateur golfers we have in this country. For over two and a half decades, we at Audi have not only championed but also actively promoted amateur golf, encouraging participation and fuelling healthy competition. On behalf of everyone at Audi Naas, I would like to wish all finalists the best of luck at the national final of the Audi quattro Cup."